AC Cincinnati



AC Cincinnati logo

Full name
AC Cincinnati
Founded
2010
Stadium
Paul Brown Stadium
(Capacity: 65,000)
Owner
Chad Ochocinco
General Manger
Darren Gray
Coach
Thomas Smith
League
DPL
AC Cincinnati is a Devine Premier league (DPL) team located in Cincinnati, Ohio, Tri State of Cincinnati. It was established in 2010.
The team is owned by Bengals reciever, Chad Ochocinco and the GM is Darren Gray. The head coach is the national team head coach Thomas Smith. All home games are played at Paul Brown Stadium, except if there are Bengals games or any other events there, they play at Nippert Stadium as a backup. At each home game a local high school or college marching band from Cincinnati or Northern Ky and perfroms at the game. Play by Play is televised on FSN Cincinnati or NBC- WLWT 5 with announcers Cris Collinsworth and Tom Jackson.
First DPL Season (2010)
Edit
2010 AIFF Club World Cup
Edit
In the 2010 AIFF Club World Cup in Duwamish, AC Cincinnati finished 2nd in Group A and lost in the Knockout Round. In the 1st game against Layana FC, they lost 3-1 with Michael Owens being the only goal at the 41st minute. In the 2nd game, AC Cincinnati stunned Freeport Sounders FC by tieing them 0-0, afterwards fans ran onto the field celebrating with the team. In thier 3rd game, AC Cincinnati came out emotional and pumped and then they defeated Chihiro FC with Michael Owens scoring both goals at the 12th and 67th minute and became the Man of the Match. Then they finished 2nd in Group A with Freeport Sounders FC 1st, Layana FC 3rd, and Chihiro FC 4th. In the Knockout Round, they finished up the tournament losing to Aspartia United 3-0.
AC Cincinnati's jersey is made by Devine Athletics.
AC Cincinnati has played all thier home games at Paul Brown Stadium (65,000) also home to the Cincinnati Bengals. Although if there are any other events like a Bengals game, AIFF Friendly, etc, they play at thier secondary stadium, Nippert Stadium (24,000) home to the University of Cincinnati Bearcats american football.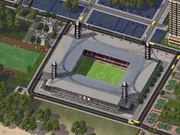 | No. | | Position | Player |
| --- | --- | --- | --- |
| 1 | | GK | John Joradanson |
| 12 | | MF | Donavan Fitzpatrick |
| 3 | | GK | Freddie Eli |
| 24 | | MF | Ryan McBarkley |
| 5 | | DF | Frank Fury |
| 6 | | GK | Keith Harlendson |
| 7 | | MF | Freddie Love |
| 10 | | FW | Lucas Haven |
| 54 | | MF | Ren Johnson |
| 13 | | MF | Danny Blanchester |
| 14 | | DF | Jason Mikes |

| No. | | Position | Player |
| --- | --- | --- | --- |
| 16 | | DF | Jerry Thomas |
| 17 | | DF | Toby Bell |
| 18 | | DF | Mack Friendly |
| 20 | | FW | Brian Fellows |
| 15 | | DF | James Waltrip |
| 77 | | MF | Jared Lewis |
| 25 | | MF | Charile McGee |
| 65 | | DF | Ricky Wainright |
| 39 | | FW | Ron Trauth |
| 41 | | FW | Kerry Alexander |
| 32 | | FW | Michael Owens |