Freeport Sounders FC



Freeport Sounders FC logo

Full name
Freeport Sounders FC
Nickname(s)
Sounders
Short name
Sounders FC
Founded
1980
Stadium
PS3 Pitch at Escambia National Stadium
(Capacity: 105,000)
Black Sun Sports L.L.C.
Chad Peyton
Coach
Michael Peyton
League
DPL & EBL
2010
3rd
Current season
Freeport Sounders FC is a Devine Premier League (DPL) club based in Freeport, Escambia It was established in May 1980 as a Escambia Bundes Liga (EBL) expansion team. Fans chose the Sounders name through a write-in vote, after the local Freeport Bay.
The team is owned by Black Sun Sports, L.L.C. and has been coached and managed by Michael Peyton since 2001. Sounders FC home matches are played at the PS3 Pitch at Escambia National Stadium. Along with several organized support groups, a 60-member marching band called the Rave Militia plays at each home game. Former British football player and Gol TV announcer Ray Hudson calls the play-by-play for local and regional broadcasts on YSN.
In May 1980 the Escambia Bundes Liga was looking to expand the football market in Escambia and other areas near Escambia. In part of the EBL, Black Sun Sports L.L.C. created the Freeport Sounders FC in the slow sports market of Freeport, Escambia. The Sounders won the EBL title the first year in the league
Promotion to DPL
Edit
In 2008 Black Sun Sports L.L.C. the owner of Freeport Sounders FC created the SimSports International Soccer League. Which Freeport joined as Freeport FC, Freeport had a very bad first two seasons. But have hired a new coach and brand new squad. Uniforms were modified with the new team colors including sponsorships. Freeport Sounders FC signed Playstation 3 to a 2-year 100 million dollar sponsorshop deal for the uniform rights. In a friendly match against the Dawson Ducks FC at Escambia National Stadium on September 8, 2010 viewed by 106,752 spectators the Sounders won 4-3, with Suntke Saathoff scoring a hat trick along side Dawson's Nate Lee
The Freeport Sounders FC team has 4 main jersey they wear for game play. Jerseys are made by Devine Athletics of Escambia. The home jerseys for Freeport are Rave Green, with blue side panels, and white arm panels. The away jersey is Freeport Blue, with Rave Green side panels, and white arm panels. The international jerseys are electricity yellow and white. With either burned yellow panels or Freeport Blue panels, and white arm panels or Rave Green arm panels. The Jersey sponsor for Freeport Sounders FC is Playstation 3 or commonly known as PS3. The Sounders and Playstation have a 2 year contract till the release of the Playstation 4 (PS4). It is up to Freeport to resign the contract with PS4. There has been rumors that the Sounders may switch sponsorships after the 2 years to Xbox like their counterparts Seattle Sounders FC in Seattle, Washington, USA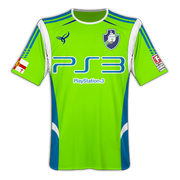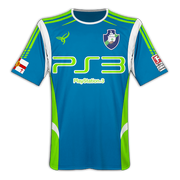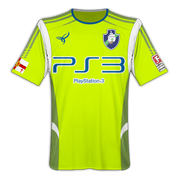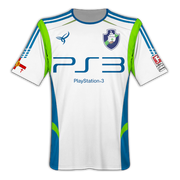 Freeport Sounders FC plays home games at the PS3 Pitch at Escambia National Stadium in Freeport, also home to the Freeport Seahawks of the SFL. The pitch is a synthetic turf made by FieldTurf. The team's training facilities and offices are located within the stadium's upper & lower concourse.
Escambia National Stadium is a 105,000-seat stadium designed for both American football and soccer. During most games, the capacity is exceeded to accommodate more fans, although previously tarpaulins covered the upper deck of the stadium to provide "a more intimate atmosphere" in the EBL years.
For the 2010–11 season, the whole stadium will be opened; previously only Escambia National Team games and friendlies were allowed to use all 105,000 seats. While Freeport Sounders FC currently plays on FieldTurf, the Escambia National Stadium once had a natural grass installed from 2004 until 2007.
Although when Escambia National Stadium is in use by either the Freeport Seahawks or the Escambia National Teams, the Freeport Sounders FC team plays at Mariners Park located in downtown Freeport, Escambia, home to the Freeport Mariners, of the SimSports League Baseball.
Supporters
Edit
The Freeport Sounders FC has one main supporters group, the Emerald City Militia, which comprises of over 100,000 international members that attend games at Escambia National Stadium and away games. The Emerald City Militia was originally formed in 1983 to help fast-track a EBL franchise for Freeport and it was successful. The group also formed the Black Militia, a 60-member band that plays at home games.
Ownership and Team Management
Edit
The team owner is Black Sun Sports, L.L.C., led by Chad Peyton. Michael Peyton has been head coach and general manager of the team, since the 2004 sesaon. Nathaniel McJohnson is the top assistant coach and Rod Robinson is the goalkeeper coach.
Broadcasting
Edit
Freeport Sounders FC matches are televised in English by either YSN-TV or YSN2 -TV, except for preseason matches. In addition to nationally televised matches, a show airing on Monday evenings called Sounder Nation features interviews, highlights, and other features related to the club.
During the EBL seasons, from 1980 until 2008, Mike Thomas, who also hosts Sounder Nation, has called play-by-play for broadcasts. Former British football player and Ray Hudson replaced him prior to the 2009–10 season. Matches are televised in German on YSN-Fußball with Adolf Von Olthoff calling the action. On radio, Sounders FC matches are aired in English on FSRN-FM and in German on FSRN-FM Alternate.
Current roster
Edit
As of December 1, 2010.
Bold Denotes Starter
| No. | | Position | Player |
| --- | --- | --- | --- |
| 2 | | DF | Roberto Jimenez |
| 3 | | MF | Neil Reddin |
| 4 | | DF | Helge Benji |
| 5 | | FW | Suntke Saathoff |
| 10 | | MF | Patin Fernando |
| 11 | | DF | Mathew Dulle |
| 12 | | DF | Julio Nagata |
| 14 | | MF | Dejean Clinton |
| 19 | | GK | Christopher Jansen |
| 15 | | DF | Tyrone Digiacomo |

| No. | | Position | Player |
| --- | --- | --- | --- |
| 16 | | MF | Jessie Felton |
| 17 | | MF | Kurt Vandyne |
| 22 | | FW | Vincent Bradley |
| 23 | | FW | Lester Nkufo |
| 25 | | MF | Javier Peyton |
| 27 | | MF | Ralph Lesko |
| 29 | | MF | Erik Galentine |
| 30 | | MF | Fernando Tharrington |
| 32 | | GK | Alvin Brayden |
| 41 | | GK | Murray Frabrice |
Formation: 4-1-2-1-2